Let Your Career BLOOM with Us!
BLOOMS Garden Center, Nursery & Gift Shop would love to have you join our TEAM:
if you have a passion for plants and like to work outdoors,
if you like to inspire customers and give them solutions and tools to be successful in their outdoor living space,
if you enjoy helping customers find the perfect gift or home/garden décor items,
then we have a variety of full and part-time seasonal positions available.
GREEN TEAM:
Customer service/sales in: Annuals • Perennials • Vegetables • Shrubs • Trees
Knowledge and passion for plants and gardening in general is required
Understand proper plant care and maintenance
Strong desire to assist customers in effectively choose plants, gift/gardening items, landscaping supplies & materials
Unloading and properly documenting plant/product shipments, pricing and inventory
Friendly and outgoing
Self-motivated, enjoy working outside
Able to juggle multiple responsibilities
Must be able to lift up to 40 lbs and move heavy plant carts
Work in all weather conditions
Not afraid to get your hands dirty
Must be flexible and able to work weekends/evenings
RETAIL TEAM:
Strong sales and communication skills including phone
Outgoing and friendly personality
Greet customers and help them effectively choose items for the home and garden décor
Comfortable multitasking in fast-paced environment
Detail-oriented, accurate, and efficient operation at checkout
Stocking, product displays and merchandising
Cashiering/POS experience a plus, however, we will train you
May need to work outside in variety of weather conditions
Must be flexible and able to work weekends/evenings
Part and Full Time Positions Available Depending Upon Qualifications & Hours Desired
Applications can be found on the BloomsGardenCenter.com website.
Please submit your application as soon as possible – either to bloomsmktg@gmail.com or 1440 Blairs Ferry Road, Marion, IA  52302. You can also drop off your application.
BLOOMS is an Equal Opportunity Employer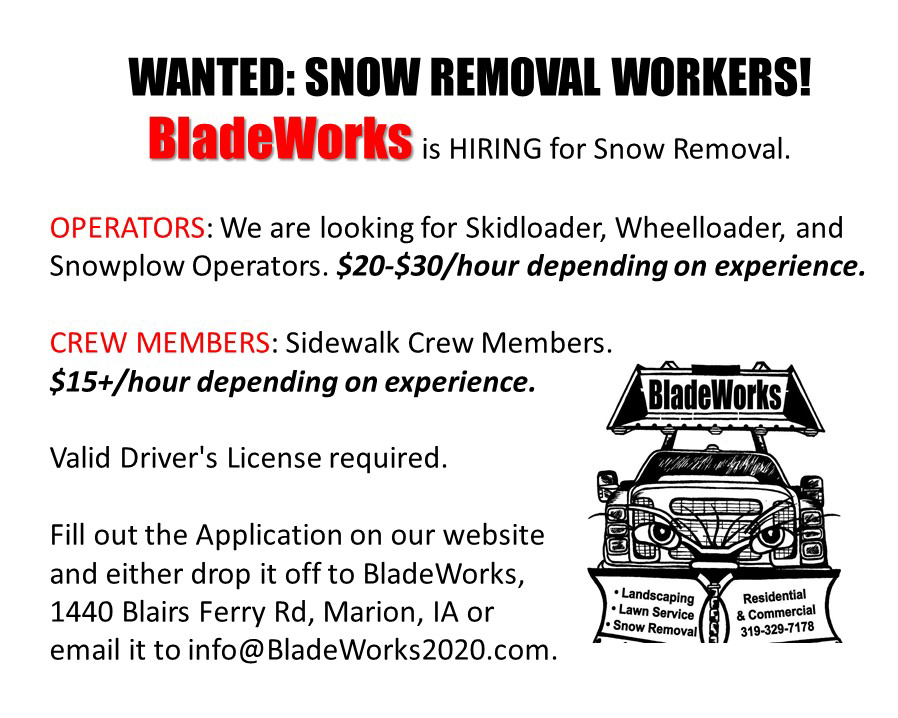 Commercial & Residential Property Care
Lawn Care • Landscaping • Snow Removal • Holiday Lighting

We have built a Solid Reputation with our clients for
PROMPT, CONSCIENTIOUS, and CARING SERVICE.
They know we take the extra step to ensure Quality, Like-minded Results.
From Small to Large Tasks ... We deliver the Best Value for Your Dollars Spent.
Call Us @ 319-329-7178
Lawn Care  - You'll get healthier, thicker, greener lawn from our Lawn Professionals.
Landscape/Hardscape - We offer skid loader services for your finish grading needs. We design backyard escapes for your stay-cations, entertaining and aquascapes for relaxation.
Tree Care - Get Professional Care and Maintenance Services from BladeWorks.
Snow Removal - BladeWorks provides snow removal and sanding services for commercial properties.
Holiday Lighting - Allow us to help you light up the nights for the holiday season.
BladeWorks is Loving the Snow!
Check out some shoveling suggestions for the next snow fall!
Make sure you check out BLOOMS Garden Center • Nursery & Gift Shop for all your garden and home decor needs. BLOOMS has a unique offering of home & garden decor as well as excellent gifts for that special person in your life.
If you need a Gift Card, please call 319-329-7178 and we will mail it out to you.
BLOOMS is closed for the season - and will reopen in time for your indoor seed starting needs.
Check out BLOOMS Garden Center & Gift Shop